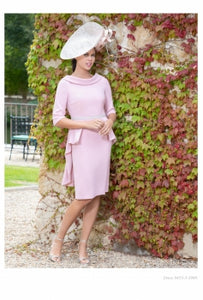 From Galicia in Northern Spain and at the head of the company and giving it her name is Carmen Melero. A woman who, like all other members of the company, puts her soul and all her passion into the exciting craft of designing clothes for other women to make them feel attractive and comfortable. With many design possibilities and a great fit Carmen Melero is a great choice for any special occasion.
This is a classic style from Carmen Melero. Made in a crepe fabric which is very flattering on and doesn't wrinkle. It has a peplum effect at the back and diamonte detailing on the waistband which adds a touch of glamour.
It is available to order in a number of colours and available instore at the moment in Pink in size 8 & 18 and Iris blue in size 14.
€610